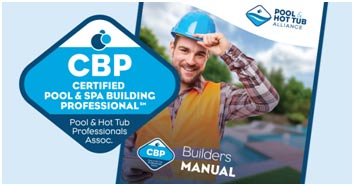 This nationally recognized designation will teach you how to become a pool contractor, builder, or designer who is well respected and sought after by customers and employees. Earning your Certified Pool & Spa Building Professional (CBP) certification will set you apart from colleagues and raise your industry visibility among manufacturers, distributors, and buying groups, ultimately making you and your organization more competitive.
Prerequisites to Earn the CBP Designation
At least five years of industry experience
Complete an approved course such as the on-demand Pool and Spa Construction Course (PSCC) or the GENESIS Construction School, concrete or vinyl liner
Fill out an Application: Must be submitted at least two weeks before your test date
Pass a 150-question, closed book, multiple-choice exam
Exam Retest Form: If you didn't pass the exam, you can reschedule a retest within a year of your testing date to avoid having to take the course again
Exam Information
To become certified as a CBP (Certified Builders Professional®), you must have five years of industry experience and take the CBP Exam. An additional registration form and $250 fee for the CBP Exam is required. The CBP Exam is 3 hours long, closed book, with 150 multiple choice questions. You must score 75% or better to pass (answering at least 113 questions correctly).
Choose How to Take the Exam
On a computer at a PSI computer testing center near you. Computer testing gives immediate test results and flexible time to take the exam.
On a computer remotely proctored at your convenience. Remote proctored computer testing gives immediate test results and unparalleled flexibility to take the exam.
At an PHTA national, regional, or chapter-sponsored testing event. A list of upcoming events can be found here. You will receive your exam results by US Mail approximately 3 weeks after the exam.
Please contact PHTA at education@phta.org or 703-838-0083 for additional information on the CBP Exam and application process.
Online Pool & Spa Construction Course (PSCC)
This self-paced online course format is interactive and engaging with videos, quizzes, and exercises. You have the option to purchase the full course or a specific module.
Course Materials and Forms
Maintain Your Certification
Learn more about maintaining your status as a PHTA-certified individual and continue to enjoy the associated benefits.
From Our Members
"I would say that everyone should take the CBP class. It definitely gives you an advantage when you go to meet with clients or just talk to other professionals because you are aware of different building practices that you might not necessarily use in your own business. But if someone has a question about a different type of pool construction, you can answer it."
– Alexa Dal Pino, CBP | Dal Pino Quality Pools | Sacramento, CA