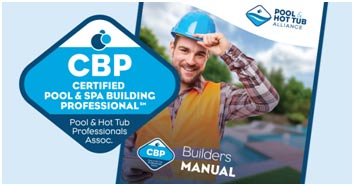 This nationally recognized designation will teach you how to become a pool contractor, builder, or designer who is well respected and sought after by customers and employees. Earning your Certified Pool & Spa Building Professional (CBP) certification will set you apart from colleagues and raise your industry visibility among manufacturers, distributors, and buying groups, ultimately making you and your organization more competitive.
Prerequisites to Apply
At least five years of industry experience
24 hours of continuing education credit over the past three years
Pass a 150-question, closed book, multiple-choice exam
Testing Options
The CBP certification exam costs $250. Candidates must submit a completed application at least 14 days in advance of their testing date.
Test at a PHTA national, regional or chapter-sponsored education and testing event.

Test at an accredited community college or university near you. There may be an additional exam proctoring fee up to $40. Contact your local community colleges and libraries to find your nearest proctored testing center.

Additional responsibilities if you test at a college or university:

Scheduling an appointment for testing.
Providing PHTA University with your name, mailing address, and exam date.
Online Pool & Spa Construction Course (PSCC)
This self-paced online course format is interactive and engaging with videos, quizzes, and exercises. You have the option to purchase the full course or a specific module.
Course Materials and Forms
Maintain Your Certification
Learn more about maintaining your status as a PHTA -certified individual and continue to enjoy the associated benefits.
From Our Members
"I would say that everyone should take the CBP class. It definitely gives you an advantage when you go to meet with clients or just talk to other professionals because you are aware of different building practices that you might not necessarily use in your own business. But if someone has a question about a different type of pool construction, you can answer it."
– Alexa Dal Pino, CBP | Dal Pino Quality Pools | Sacramento, CA