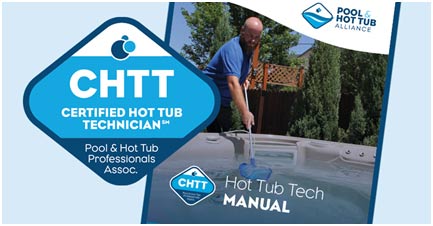 The Certified Pool & Spa Hot Tub Technician program covers the essentials of servicing portable and permanently installed hot tubs and spas and equipment repair and replacement.
Prerequisites to Apply
Completion of the CHTT course based on the PHTA Hot Tub Technician Manual
Pass CHTT exam
Testing Options
The CHTT exam costs $115. Candidates must submit a completed application at least 14 days in advance of their anticipated testing date.
Test at a PHTA national, regional or chapter-sponsored education and testing event.

Test at an accredited community college or university near you. Additional proctoring fees may cost up to $40. Contact your local community colleges and libraries to find your nearest proctored testing center.

Additional responsibilities if you test at a college or university:

Scheduling an appointment for testing.
Providing PHTA University with your name, full mailing address and exam date.
Online CHTT Course
This self-paced online format is interactive and engaging with videos, quizzes, and exercises. You have the option to purchase the full course or a specific module.
Please Note:
Students who have started and need to finish the course, click here
Students who have purchased the course but have not yet started it, click here.
Course Materials and Forms
Maintain Your Certification
Learn more about maintaining your status as a PHTA-certified individual and continue to enjoy the associated benefits. Find the recertification application here.