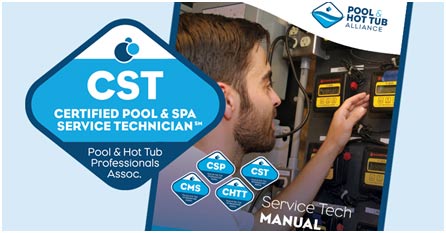 After completing this pool technician certification course, you will be able to:
Explain common problems with pool finishes and how to repair them
Keep pools running more efficiently with a better understanding of circulation, filtration, hydraulics and electricity
Grow your practical knowledge and gain troubleshooting skills and resources
Distinguish yourself as an experienced and knowledgeable service technician
Prerequisites to Apply
1–2 years of industry experience
24 hours of continuing education credit
Pass a 100-question, open book, multiple-choice exam
Online CST Course
This self-paced online course format is interactive and engaging with videos, quizzes, and exercises. You have the option to purchase the full course or a specific module.
Please Note:
Students who have started and need to finish the course, click here
Students who have purchased the course but have not yet started it, click here.
Information for States Requiring Certification
Due to licensing requirements, some states do not require the CMS course, and only require successful completion of the exam, in which case the CMS Challenge Exam is available.
Download the CST Challenge Exam application
Testing Options
The CST certification exam costs $115. Candidates must submit a completed application at least 14 days in advance of their testing date.
Test at a PHTA national, regional or chapter-sponsored education and testing event.

Test at an accredited community college or university in your area. You might need to pay an additional exam proctor fee, which could be up to $40. Contact your local community colleges and libraries to find your nearest proctored testing center.

Additional responsibilities if you test at a college or university:

Scheduling an appointment for testing.
Providing PHTA University with your name, mailing address, and exam date.
Course Materials and Forms
Maintain Your Certification
Learn more about maintaining your status as an PHTA-certified individual and continue to enjoy the associated benefits. Find the recertification application here.
From Our Members
"Our industry has changed so much over the last five or 10 years. If you're not constantly getting education, reading and learning more, you won't know the technology. If you want to be a professional, you have to have education."
– Noel Conley, CSP, CST | Miracle Pool Service | Garland, TX