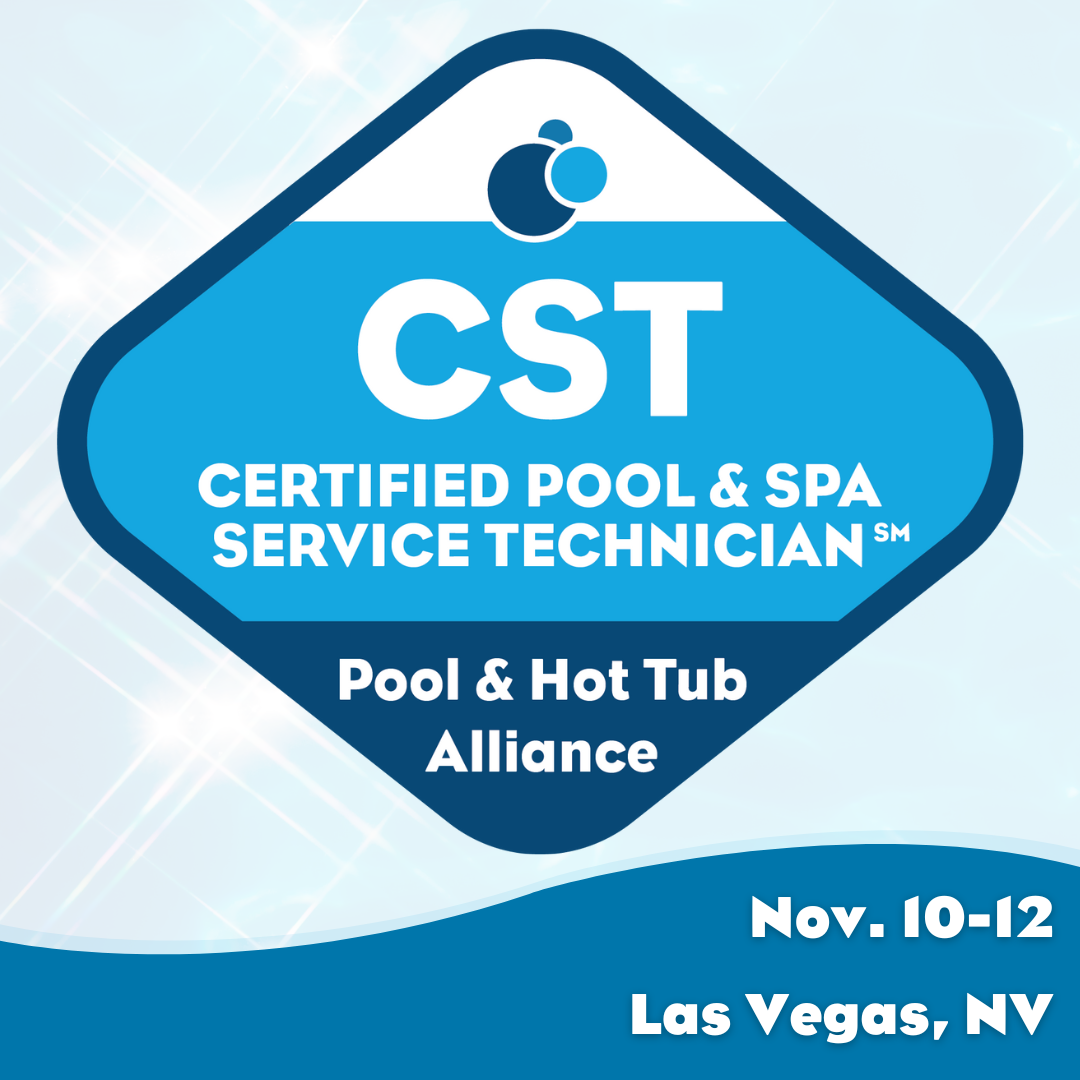 PHTA is offering the CST course in-person at PSP/Deck Expo this fall. Learn more and register here.
After completing this pool technician certification course, you will be able to:
Explain common problems with pool finishes and how to repair them
Keep pools running more efficiently with a better understanding of circulation, filtration, hydraulics, and electricity
Grow your practical knowledge and gain troubleshooting skills and resources
Distinguish yourself as an experienced and knowledgeable service technician
Prerequisites to Apply
2 years of industry experience
Successful completion of the Certified Service Technician® (CST®) course
Pass the CST Exam
Online CST Course
This on-demand, self-paced, online course format is interactive and engaging with videos, quizzes, and exercises.
Purchase the On-Demand CST Course
Instructor-Led CST Course
Attend a live in-person or virtual CST course with fellow students, led by a PHTA Instructor.
Unable to find a live course in your area? Contact service@phta.org to be put in touch with an instructor.
Exam Information
To become certified as a CST® (Certified Service Technician®), you must complete the CST course and take the CST Exam. An additional registration form and $115 fee for the CST Exam is required. The CST Exam is 2.5 hours long, open book, with 100 multiple-choice questions. You must score 75% or better to pass (answering at least 75 questions correctly).
Exam Content Breakdown
| Unit | Number of Questions |
| --- | --- |
| Unit 1: Safety | 4 questions |
| Unit 2: Practical Knowledge | 6 questions |
| Unit 3: Water Quality | 12 questions |
| Unit 4: Structures and Finishes | 7 questions |
| Unit 5: Circulation and Filtration | 13 questions |
| Unit 6: Electrical Requirements (includes lighting) | 13 questions |
| Unit 7: Pump Motors | 10 questions |
| Unit 8: Heaters & Optional Equipment | 16 questions |
| Unit 9: Control Systems | 5 questions |
| Unit 10: Maintenance | 14 questions |
| | 100 questions total |
Choose How to Take the Exam
Candidates must submit a completed application at least 14 days in advance of their anticipated testing date.
On a computer at a Prometric computer testing center near you. Computer testing gives immediate test results and flexible time to take the exam.
On a computer remotely proctored at your convenience. Remote proctored computer testing gives immediate test results and unparalleled flexibility to take the exam.
At a PHTA national, regional, or chapter-sponsored testing event. A list of upcoming events can be found here. You will receive your exam results via email 3 weeks after the exam.

Upcoming PHTA Testing Date:

November 13, 2023
PSP/Deck Expo / Las Vegas, NV
9am-12pm and 1pm-4pm

At an accredited community college or university in your area. Additional proctoring fees may cost up to $40. Contact your local community colleges and libraries to find your nearest proctored testing center. You will be responsible for scheduling an appointment for testing. You will need to provide PHTA with your name, mailing address, and exam date.
Please contact PHTA at service@phta.org for additional information on the CST Exam and application process.
Course Materials and Forms
Application: Must be submitted at least two weeks before your testing date.
Exam Retest Form: If you didn't pass the exam, you can schedule a retest within a year of your testing date without needing to take the course again.
PHTA Service Tech Manual and CST Certified Service Technician Workbook (included in the price of the CST Course):
The PHTA Service Tech Manual is a valuable reference tool used by professionals throughout the pool and spa industry. Get comprehensive information about pool and spa technology and providing professional service and repair. The CST Workbook guides you through the Service Tech Manual as you study.
Certification Policy Handbook: Find many of the answers to your certification questions in our Certification Policy Handbook.
Maintain Your Certification
Learn more about maintaining your status as an PHTA-certified individual and continue to enjoy the associated benefits. Find the recertification application here.
Application for recertification is due on or before December 31 of the year your certification expires. Failure to recertify by that time, or by the end of the 90 day grace period (April 1 of the following year), will result in a late fee being applied to your certification. Up to 1 year past your certification expiration, you will need to reapply for certification, submit proof of total continuing education hours, and pay the recertification fee and the late penalty. For questions or clarification, please contact PHTA at service@phta.org or 719-540-9119.
From Our Members
"Our industry has changed so much over the last five or 10 years. If you're not constantly getting education, reading and learning more, you won't know the technology. If you want to be a professional, you have to have education."
– Noel Conley, CSP, CST | Miracle Pool Service | Garland, TX