PHTA Leadership Certificate Program Powered by Cornell University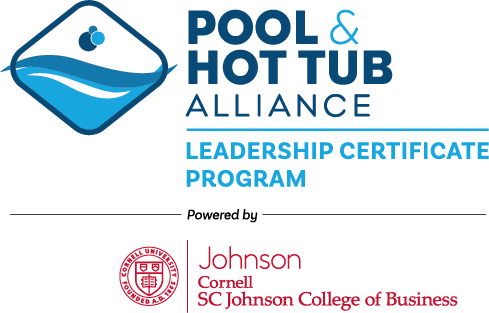 2 programs
2 world-class organizations
1 powerful team of professors
An exclusive PHTA member program for both emerging and executive leaders
PHTA has teamed up with Cornell University to deliver to you a private leadership learning experience. Through a series of four on-demand courses, each led by a Cornell professor with expertise in that area, you are sure to learn the necessary leadership and management skills needed to elevate your career. As we start to understand the post-pandemic market conditions, brushing up and constantly honing these skills is necessary to stay ahead, motivate your team, and continue to drive your company to success.
Whether you're a C-level executive or growing in your leadership role, there is a program for you! Coupling the Cornell University brain trust with the pool and hot tub industry through PHTA is just one benefit of membership. This exclusive leadership certificate program will earn you a co-branded certificate and the soft skills and knowledge to continue to lead and grow.
Choose your track:
Emerging Leaders Track Executive Leaders Track
"The Emerging Leaders Certificate Program was fantastic! It was very informative and required some pretty deep thinking and self-reflection. I would recommend this course to anyone who manages or leads people."
- Erik Vukovich, Premier Pools & Spas
Key Benefits:
Flexible scheduling! Each certificate course is comprised of four on-demand courses that you can schedule around your busy life.
Earn a Leadership Certificate from an Ivy League university to proudly display your commitment to excellence.
Learn from Cornell experts. These courses are taught by the best of the best.
Learn from other professionals about their leadership from a variety of industries. Participants will have the opportunity to engage with peers from all over the country and from a variety of different disciplines.
Past Graduates:
PHTA would like to congratulate the 24 pool, spa, and hot tub industry professionals who participated in the first cohort of this program in early 2023. See the full list of graduates here.